Yesterday I was looking in my box of BJD clothing to look if I could find a shirt that would be more suitable for the pants I made. I was first thinking of the two blue shirts I got from a swap on DoA, and tried them on.
But even though it looked better than the pink sheep shirt (from DollMore.. it was so hot yesterday that just looking at Asaro in that shirt made me feel even warmer), it didn't suit him very good because it was too 'plain'.. As you can see, the print on the pants is very busy and colourful, and the shirts were baby blue with a few more colors at some places.
Then I found a shirt I totally forgot about, which I got once 2nd hand from the BJD Cafe (Dutch forum). And it looked perfect XD I put the shoes, which came with Torin (I suspect it having been keychains v.v I'm not sure though) on him and the outfit was done XD I should have colourful socks for him, and probably shoes with some print on.. but I'm satisfied for now.
I took a lot of pictures of him with Torin. So I'll put some on here :)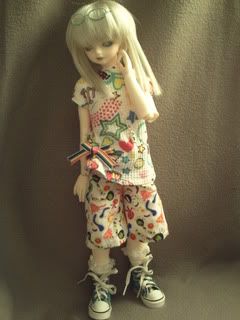 Tsuki makes the "Torin-face"