I was looking a bit around today, in search of a wig for the next doll I'd like to get. (But first the doll will come XD)
I went to LUTS since it's my favorite site for doll stuff (and I love their wigs.. great quality.) and I noticed they had new limited edition dolls.
Beside the many new limited Zuzu Delfs and Quintus (Senior Delf), they have two limited edition Honey Delfs, and I wanted to write a bit about them. I mean.. how can I not? They are incredibly cute!!
They are called "Choux" and "Choco".
Choux is the one in pink and Choco in blue. Their outfits are Sweet Lolita alike, if you don't count the bunny ears.. and the collars of their outfits look like ones from school uniforms. Choux has the "sweet" face and Choco has a slightly more pouty / serious face.
My first thought when I saw them was that they'd be perfect for someone who dresses Fairy-kei, or Sweet Lolita... haha.. :3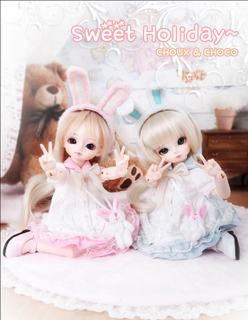 © LUTS
Here are the links! :D
Choux * c l i c k *
Choco * c l i c k *
I hope they find nice homes ^^ (I would order one if I didn't have my eyes on an other doll ;D .. XD I love Choco)